Clan
Fall 2015, Clan is for sale:
Below are old notes/thoughts on equipment and my wish/wants list.
Equipment
Mast
Right now we have 22mm HS Sprenger stainless track.
Safety
We finally have a life-raft, a Seago 4-person offshore in a canister.
Heating
With pretty much any of these heaters the big concern on our boat is mounting space, either on the bulkhead or near the galley. If on the bulk head then the flue length becomes a concern. A possible fix is to have a removable external flue section with a fitted deck-level cap for when the stove is not in use. If mounted in/near the galley/entry, the flue length becomes less of a concern, but through-deck placement and available cabin space then becomes a problem.
Update to the heating issue- Hellers here in CPH had this unit sitting on a shelf for years, and I finally asked them about it. It is a paraffin model that uses only 1" pulpit/stanchion pipe for flue, but it was missing the tank and deck fitting. I got it for a song, less than 1/3rd of the original price. Also nice is that the older models have a bronze cook-top plate instead of steel. It's quite lovely. The deck fitting is still made by Sig/Dickenson Marine, and is en-route. I plan on modifying a camp stove I purchased at a junk shop, we may just have heating yet…
Heating installed summer 2015!
Charcoal/Solid-Fuel
Diesel
Kerosene/Paraffin
Cooking
Changed to an old Optimus 155 paraffin cooker. Spares/repair parts are here: http://fogas.se/produkter/
Changed again to a Primus 535 enameled cooker because it actually fits. I even got it properly installed on gimbals with a pot holder: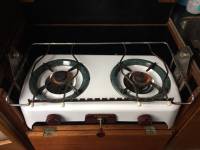 Instrumentation
Things I'd like to have are:
A battery monitor
Wind & Depth Sensor
I bought the Garmin GMI10/GWS10/DST800 NMEA 2000 bundle. Wind/temp/barometer/depth/water temp are done.
NMEA 2000 Bus
NMEA 2000 is based on the CAN bus spec, at 250khz transmission rate. Sparkfun has CAN bus Arduino shields, which I've ordered and will attempt to reverse engineer the NMEA 2000 messages with. The bus contains two wires for power, and two for serial data. It's terminated with 120 ohm resistors, so it should look like 60 ohms to a meter. More info:
Controller_area_network
CAN info from the CiA
J1939 message format notes from the CiA

Stealing Power from NMEA 2000
I have a couple of NMEA 2000 instruments now, but my plotter is older and not NMEA 2000 capable. That makes cabling the old stuff still a little painful- however, not if one powers known to be low-powered devices off the NMEA 2000 bus by using a field-installable male connector with only power connections wired. I tested with my 3005c plotter, old NMEA 0183 17HVS antenna, and don't see any issue with this arrangement. If there's an issue with the device, like there could be with a 2000 device, you can always disconnect it to isolate it from the bus.
Normal NMEA 2000 connectors: can't remember the part number Smaller NMEA 2000 connectors: http://www.molex.com/molex/products/datasheet.jsp?part=active/0848549318_FIELD_ATTACHABLE.xml&channel=Products&Lang=en-US
Bronze
Engine
Windows